July 9, 2021
INSIS - Insurance Information System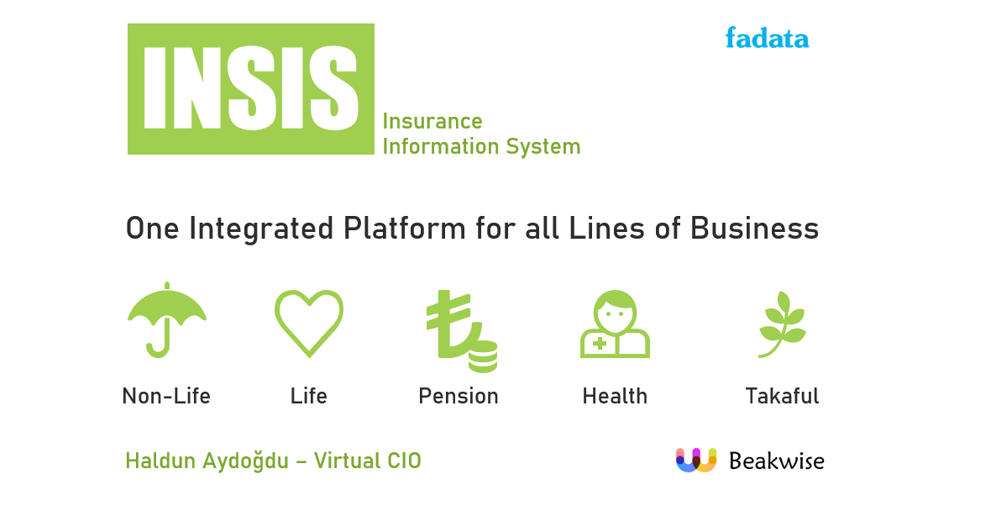 Our core insurance systems were once the innovative solution for some time back. However, under today's conditions and competitive landscape those innovative solutions of yesterday act as the biggest barrier against digitalization today.
You might have heard the story of "Winchester Mystery House". The inventor of Winchestor rifles passes away and his wife decides to build a mansion for his memory. She does not hire an architect and picks random construction workers to build up a piece of it every day. Eventually it takes 38 years to complete the construction only to end up with weird details such as doors and stairs that go nowhere, windows overlooking other rooms and stairs with odd-sized risers.
I guess you have already made the analogy between the construction and maintenance of a house and our core insurance / policy administration platforms. Within years we are making ourselves lost in software codes by not giving enough attention and care to analysis, design and the "big picture". Everyone is talking about the software development lifecycle and no one seems to follow it. We apply some make-up on here and there of our systems which we call "following the technological trends".
So, we should not avoid or postpone the "inevitable" once more and start removing barriers standing in front of us if we are to become a competitive player.
How and where should we start?
I met INSIS first when we made the decision for technology transformation in my capacity as the Chief Technology & Information Officer in one of the largest insurers in Europe. When the kick-off for core insurance transformation was made by the top management and the board of Anadolu Hayat Emeklilik we prepared our list of candidate vendors after consulting with Gartner analysts. The single most important criteria was the ability to configure system in a parametric way with a decreased, if not eliminated, dependence on coding. In the tender the vendor Fadata with its product INSIS performed by far the best.
The project was started in the beginning of 2015 and the implementation concluded within less than 2 years with a "big-bang" approach. Our legacy infrastructure running on the AS/400 platform was left behind and all products as well as more than 5 millions of active and inactive policies were migrated on a day close and the new day started with INSIS.
One statistic I'd like to share which I believe to be very valuable is that, due to the specific and highly-regulated nature of our country's products we came up with more than 6.000 requirements and almost 5.000 of them were implemented or customized with configuration involving no software development.
About Fadata and INSIS
Fadata was founded in 1990 in Sofia, Bulgaria by a very bright team of former academics. Throughout their journey they completed projects in more than 30 countries spanning all over the world and INSIS is now being used by more than 60 companies globally. Thanks to that success, investors' attention focused on the company and British Insurer Charles Taylor together with a leading private equity fund Riverside bought the majority stake of Fadata in 2016. The company's headquarters is in Munich, Germany and they continue their operations from 5 offices in various countries and they have a wide partner network around the world.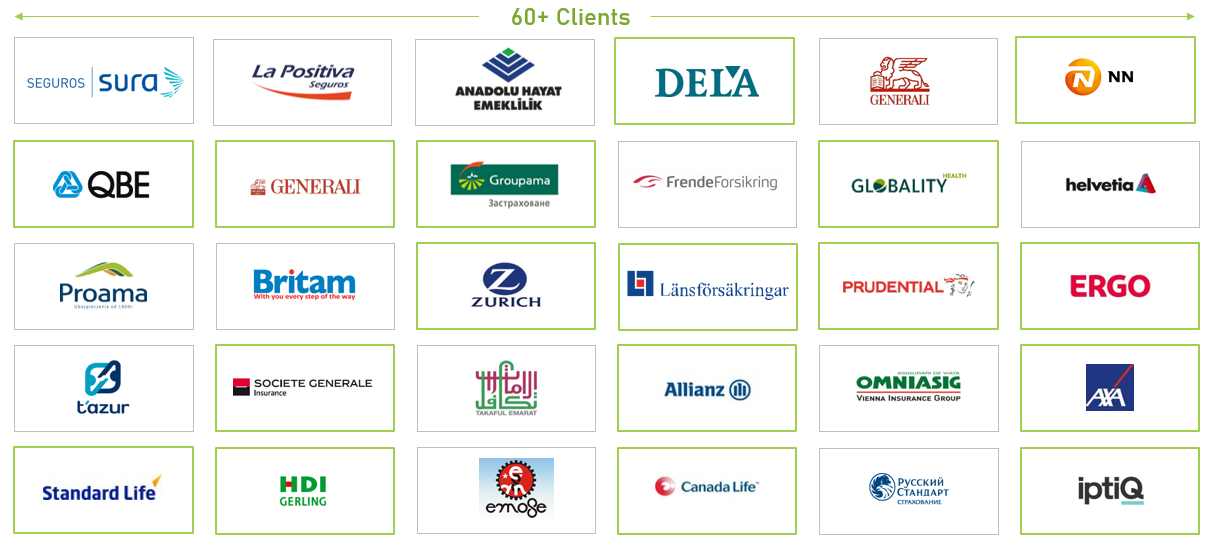 The list above shows some references of the company. Fadata gained very large insurers from the United Kingdom and Europe as clients recently whose names are not allowed to be made public until the projects are completed.
Beakwise Inc. is the partner of Fadata in the Africa and the Middle East region with their planned office openings in Dubai, Kenya, Senegal and Ethiopia for 2021.
Fadata's INSIS is now considered to be a leader by both Gartner and Celent, the leading global technology consultancies.
Let's take a look at the overview of the architecture of the product.
INSIS General Architecture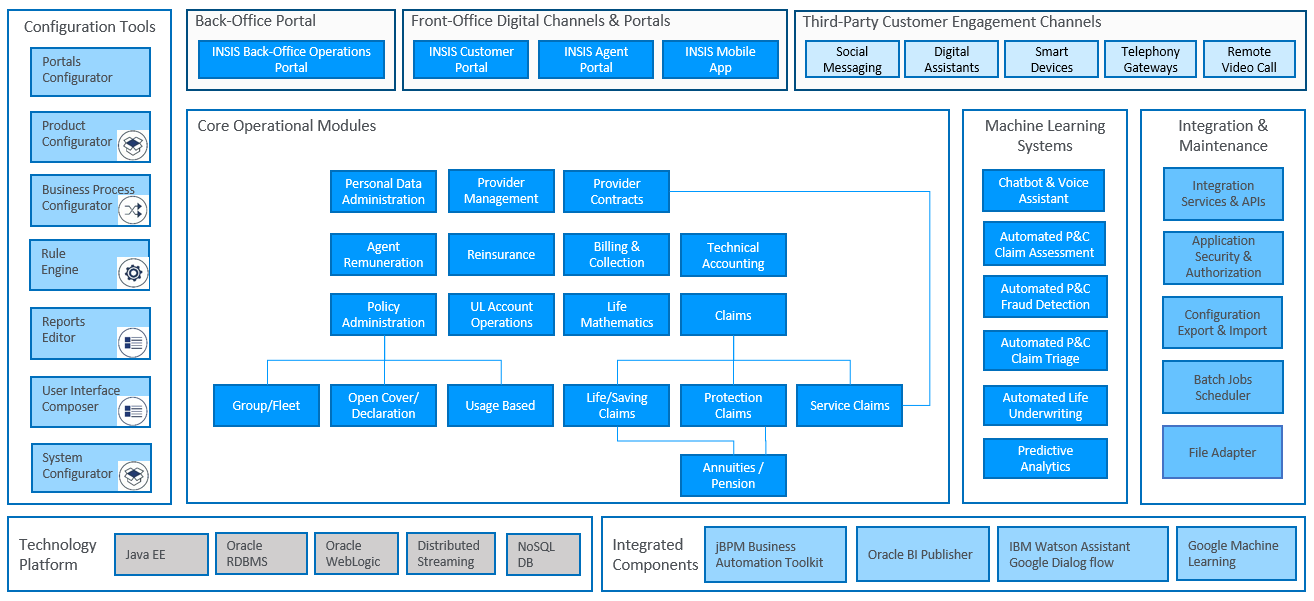 INSIS comes with full support of all kind of products in life, non-life or property & casualty, health and Takaful insurance domains in a single platform with a very competitive and advantageous total cost of ownership structure over years compared to other vendors. If your company operates in multiple countries you can serve all in a single implementation with a full support of multi-country, multi-currency operations.
The platform's most powerful side is the components listed under the "Configuration Tools" in the picture above. Utilizing pre-built items in a vast array of repositories, product configurations can be made without any coding in a fully parametric way by business units, such as product managers or actuaries. Once a product is configured, it is very easy to clone it and modify only the necessary parts and build a new product in a few minutes. INSIS provides a "time to market" in the range of days, not weeks or months like in the situation of many insurers which grapple with their legacy systems.
Just to give you some idea, here is a list of categories of repositories available in the product configurator: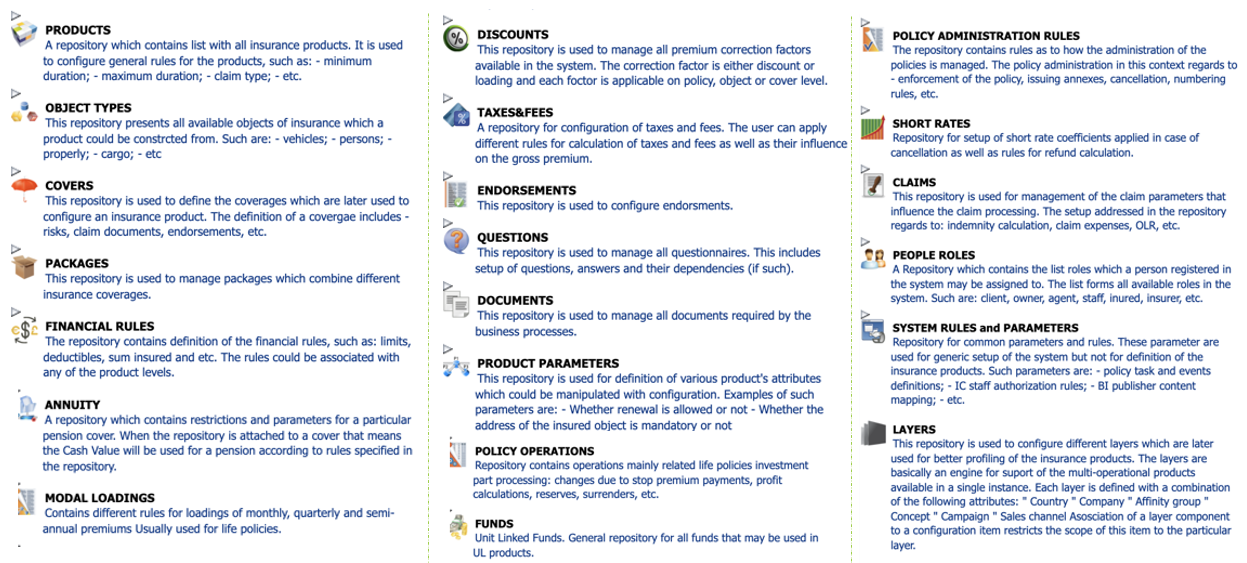 If you need a rule or definition specific to your company, your system analysts with minimal technical background could add them very easily.
For company operations and client service INSIS offers to work on a pre-defined "business process" setting and in order to allow that it comes pre-built with an integral business process management (BPM) engine. By configuring business processes in that way you save your operations and customer service staff from dealing with a steep learning-curve to figure out how to conduct an operation and prevent them from navigating between screens, buttons tabs etc. On the contrary, INSIS BPM processes guide your staff in an already engineered way and let business units automatize activities. Your staff need only to start a process, fill in what's required in the auto-displayed screen and press next, and nothing else and repeat that for the following step. This is also a very powerful method to employ authorization schemes in that for example one group of people could be allowed to enter claim data, but after pressing next, INSIS brings the claim approval decision to the manager roles automatically.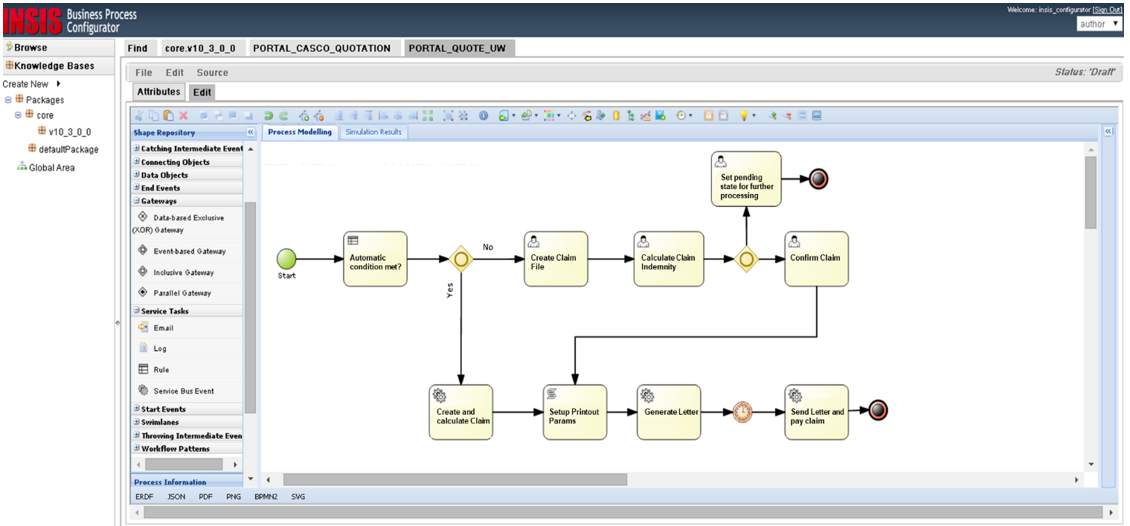 One major advantage of INSIS is that once the implementation is completed the dependency on external support by Fadata is fading away very quickly. By utilizing configuration tools you can changes in all part of the system and thanks to its real service-oriented architecture (SOA) you can train your software team and build new services without any risk of breaking the system.
INSIS Service Architecture

INSIS lets you use all its services also as a web service. There are more than 4.200 services that are opened outside. This rich pool of out-of-the-box REST or SOAP services expedite the integration of your policy administration system to 3rd party systems or external platforms tremendously.
INSIS classifies its services in 3 categories:
Core services: Main services available in the platform that is common for all INSIS users and constantly get updated with newer versions on the platform
Country Layer: services common for all companies operating in a particular jurisdiction
Customization Layer: services specific to the needs of your company
This 3 layered structure of the service provides the easy extension of current features and addition of new features as well as a flexible and modular infrastructure for customizations without affecting others parts of the system. The architectural governance is very strict in INSIS.
INSIS comes with a powerful tool to configure batch processes and monitoring thereof. You can quickly configure certain batch operations on day, month and year closes as well as apply any scheduling you deem appropriate to your batches.
The product is fully compliant with GDPR requirements and comes integrated with a GDPR tool. Additionally, the security and authorization tools are top-notch, you can configure read or write permissions to the finest detail of an item in screen of INSIS.
INSIS runs on Oracle technology and the latest version requires Oracle 19c database or above. Fadata has allocated a budget of 10 million Euro for R&D and one major goal is to make INSIS database agnostic in a few years.
INSIS can very easily be deployed on your private cloud. Recent greatest improvement of INSIS has been the AI module. The platforms now also comes with a pre-built and integrated AI module with pre-built ML models. You can automate many insurance operations and reduce your labor cost with that. The AI module of INSIS is already on production with some insurers and we recommend you examine the case studies.
To summarize INSIS:
All insurance domains and multi-national companies can be served in a single deployment.
The variety of configuration tools makes it much easier to work with a core insurance system and reduces time-to-market significantly.
The business process management (BPM) based approach on implementing customer and policy operations.
A very rich library of ready APIs to helps your company integrate with the outside world.
A sophisticated authorization and permission structure is a huge asset for governance and risk management.
Batch operations infrastructure provides not only a user-friendly way to define batches but also a monitoring and management tool.
Parametric, configuration-based mindset is immersed all around the platform. This will ensure that investments software teams is always under control.
You can take a look at Beakwise team's reference INSIS implementation that was awarded the prestigious "Model Insurer" by Celent in 2018.
Best Legacy and Ecosystem Transformation of Year 2018

Please get in touch with us for your insurance company's digital and core insurance transformation journey at info@beakwise.com.

Leave a Comment