Feb. 17, 2021
INSIS - Sigorta ve Emeklilik Uygulamaları Paketi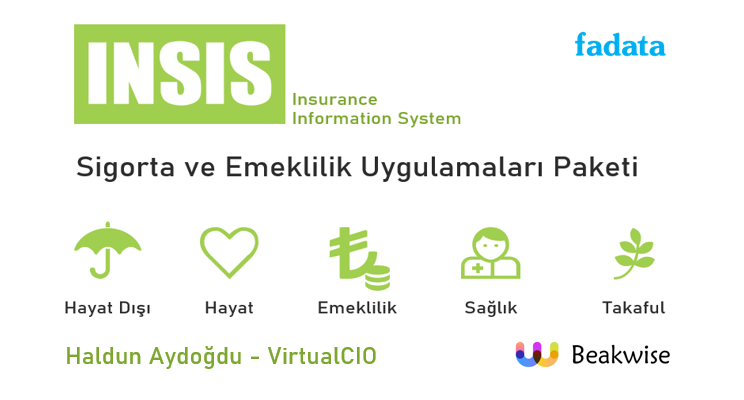 Ana sistemlerimiz; aslında bir dönemin en önemli yenilikçi çözümleriydiler. Günümüz koşullarında ise geçmişin bu inovatif çözümleri dijital dönüşümün önündeki en büyük engeller olarak karşımıza çıkıyorlar.

"Winchester Mystery House" hikayesini pek çoğunuz duymuştur. Winchester tüfeklerinin mucidi hayatını kaybettiğinde, eşi Sarah Winchester onun anısını yaşatmak için bir malikane yaptırma kararı alır. Bir mimar ile anlaşmaz. Her gün işin tamamlanması için rastgele inşaat işçileri ve ustalar seçer. Sonuçta evin inşaası bu koşullar altında 38 yıl sürer ve duvarlara açılan kapılar, tavanla birleşen merdivenler, bacasız şömineler gibi gereksiz bir yığın detay inşaa edilir.

Bu evin inşaası ve sonraki bakım süreci ile ana sistemlerimiz arasında analojiyi siz de kurmuşsunuzdur diye tahmin ediyorum. Yıllar içerisinde analize, tasarıma, büyük resme önem vermeden yaptığımız müdahaleler ile yazılım kodları içerisinde kaybolduğumuz bir dünya yaratıyoruz. Yazılım yaşam döngüsünden bahsediyoruz ama aşamalarını takip etmiyoruz. Sadece "makyaj" yaparak ilerlemeye çalışıp, bunun adına da teknolojik trendlerin takip edilmesi diyoruz.

Dolayısı ile kaçınılmazı daha fazla ötelemeyip, rekabette ortak olmak istiyor isek önce önümüzde duran bariyerleri kaldırmamız gerekiyor. Miras sistemlerimiz bu bariyerlerin en büyüğü ve değiştirmek için en zorlusu.
Nereden ve nasıl başlamalı ?

Teknolojik dönüşüm kararı aldığımız yıllarda tanıştım INSIS sistemi ile. Ana sistem dönüşümü sürecini başlatma kararı alan vizyoner Anadolu Hayat Emeklilik üst yönetimi ve yönetim kurulu bu kararı verdiğinde öncelikle Gartner analistleri ile görüşerek adayları belirledik. Seçim sürecindeki en önemli kriterim yeni sistemin parametrik olması ve yazılım gerektirmeksizin gereksinimlerin parametrik yapı ile karşılanabilmesiydi. Seçim sürecinde INSIS uygulaması ve FADATA firması gösterdikleri performans ile süreci açık ara önde kapadılar.

2015 yılında başlayan dönüşüm projesi Bireysel Emeklilik fazı, 2017 yılında tamamlandı ve "big-bang" geçiş ile tüm Bireysel Emeklilik verileri AS/400 sisteminden yeni INSIS sistemine aktarıldı. Bayrağı teslim ettiğim arkadaşlarım şimdi Hayat fazını da tamamlamak üzereler.

INSIS uygulamasının en güçlü yanını vurgulamak için ilk faza ilişkin bir istatistiği paylaşmak isterim. Analiz aşamasında tespit edilen 6000+ gereksinim Fadata firmasına iletildi. Bu gereksinimlerin 4800 adedi için sadece konfigürasyon alt yapısı kullanıldı ve kod geliştirilmedi.

FADATA Firması ve INSIS Uygulaması Hakkında
FADATA firması 1990 yılında akademik kariyeri olan girişimciler tarafından Sofya, Bulgaristan' da kuruluyor. Yıllar içerisinde 30+ ülkeye INSIS'i taşıyorlar ve 60 dan fazla firmayı referans listelerine ekliyorlar. Bunun sonucu olarak da yatırımcıların dikkatini çeken firma İngiliz sigorta devi Charles Taylor ve ortağı özel sermaye fonu Riverside tarafından satın alınıyor. Bugün ana merkezlerini Münih'e taşıyan Fadata firmasının 5 farklı ülkede ofisleri ve pek çok iş ortağı bulunuyor.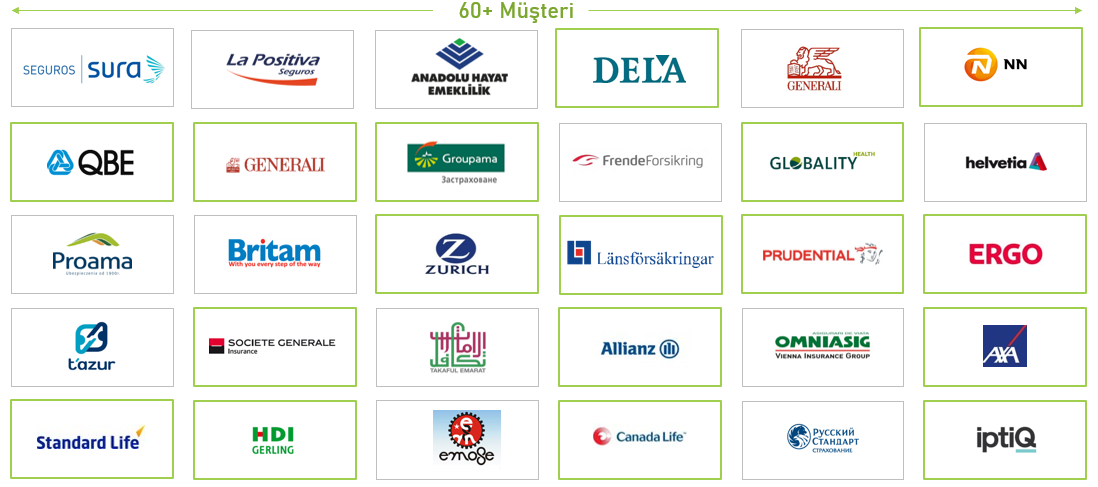 Listedekiler projeleri tamamlanmış ya da tamamlanmak üzere olan referans müşterilerden bazı örnekleri gösterirken özellike son dönemde projesi devam ettiği için henüz referans listesinde ismini anons edemediğimiz İngiltere sigorta devinin INSIS'i tercih etmesi de lider konumunu perçinleyen yeni bir müşteri kazanımı oldu diyebilirim.

En önemli çözüm ortağının Türkiye dahil tüm EMEA bölgesi sorumluluğunu üstlenen Beakwise firması olduğunu söylemeden de geçmeyeyim. Özellikle Türkiye'de ana sistem dönüşümü denildiğinde yabancı oyunculara uzak duruluyor. Beakwise firması çalışanlarının INSIS ile yaşadığı ve ödüller kazandığı dönüşüm başarısı ve bölgede tüm sorumluluğu üstlenmiş olması bahsettiğim tereddütlü bakışı bir nebze olsun azaltacaktır diye düşünüyorum.

Peki endişeleri tamamen gidermenin yolu nedir ? INSIS Uygulaması hakkında daha fazla bilgiye ulaşmak ve de bu konuda vizyon çizen Gartner, Celent gibi firmaların değerlendirmelerini dikkat almak olabilir. Celent değerlendirmelerinde hemen her kategoride birinciliği kimseye bırakmayan INSIS ürünü Gartner Magic Quadrant'ta da Lider alandaki konumunu devam ettiriyor.

Gelin INSIS uygulamasının mimari detaylarına da göz atalım.
INSIS Genel Mimarisi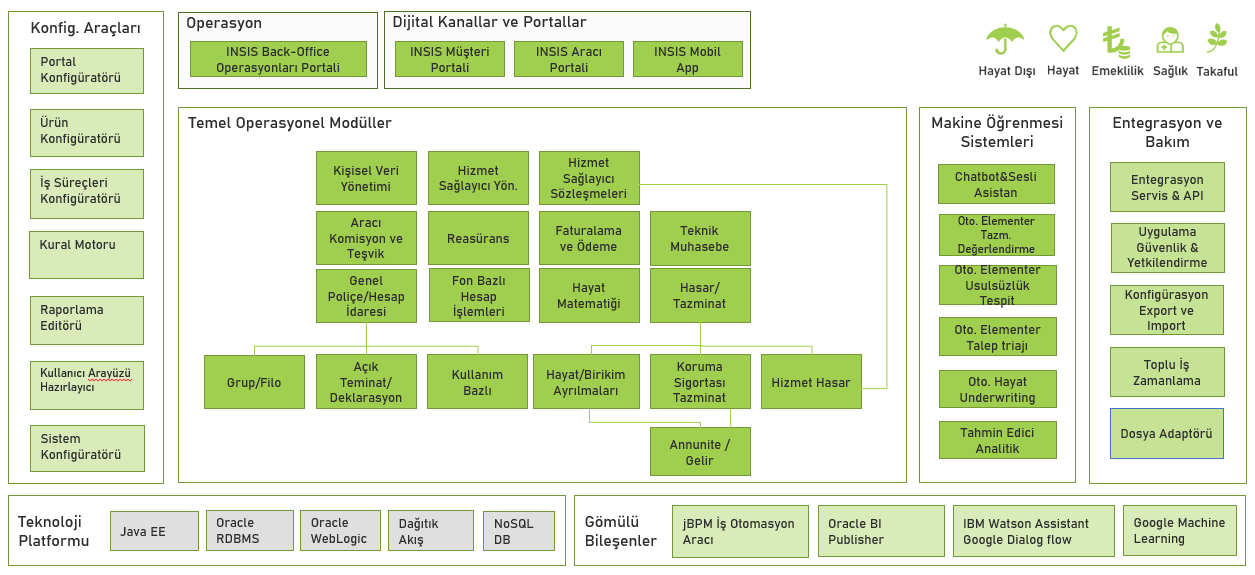 INSIS Uygulaması, Türkiye mevzuatına tam uyumlu Bireysel Emeklilik ve Hayat çözümünü sizlere hazır sunuyor. Bunun yanında diğer ülkeler mevzuatlarına göre geliştirilmiş Hayat Dışı, Sağlık ve Takaful altyapısı ile de her kategoriyi kapsayan ve maliyet avantajlı ülke lisansı ile firmalara sunulan komple bir çözüm.

Ürünün firmalara avantaj yaratan en güçlü yanı "Konfigürasyon Araçları" başlığı altında yer alan bileşenlerdir. Ürün konfigürasyonları, geniş bir repositori içinden seçilen parametreler ile Aktüerya ya da Ürün Müdürlüğü çalışanları yani iş birimleri tarafından yapılabilecek kolaylıktadır. Var olan bir ürünün kopyası üzerinden parametre değiştirerek yeni ve benzer nitelikte farklı bir ürünü tasarlamak dakikalar içerisinde yapılabilmektedir.

Fikir vermesi açısından repositori alt detaylarına da hızlıca bir göz atalım: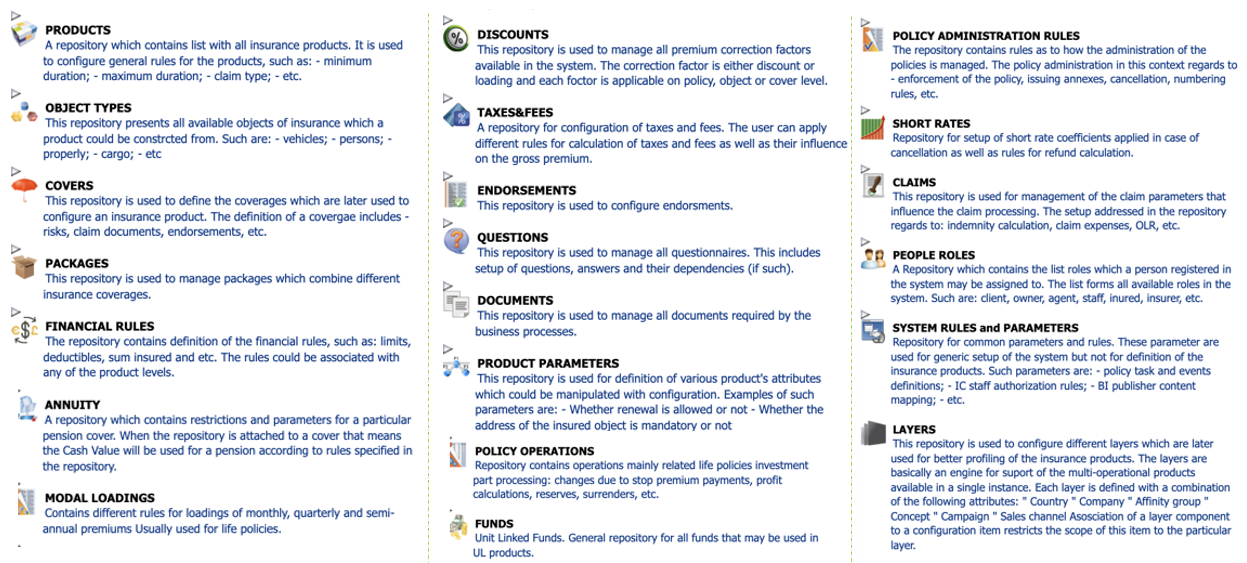 Her bir başlık altına firmanıza özel yeni kurallar ve tanımlar eklemek isterseniz bunu da belirli seviye teknik yetkinliğe sahip sistem analistleriniz rahatlıkla gerçekleştirebilirler.

INSIS, mimari olarak tüm firmalara fonksiyonel işlemleri bir sürece bağlamayı öneriyor. Bunun için kendi iç mimarisine JBOSS firmasının JBpm ürününü entegre etmiş durumda.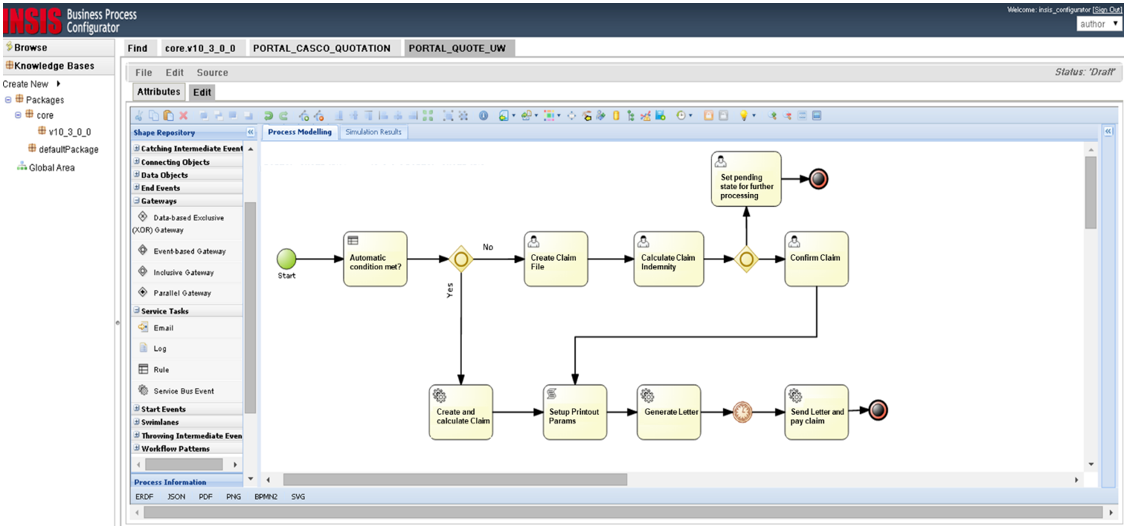 Yeni ana sistem yani INSIS devreye girdikten sonra Fadata firmasına olan bağımlılığınızın minimum seviyede olması uygulamanın önemli bir diğer avantajı. Pek çok değişiklik ya da yeni tanım gereksinimlerinizi konfigürasyon araçları ile kendiniz yapabilirken servis mimarisi tasarımı sayesinde buradaki müdahaleleri de kendi yetiştirdiğiniz teknoloji personeli ile gerçekleştirebiliyorsunuz.

INSIS Servis Mimarisi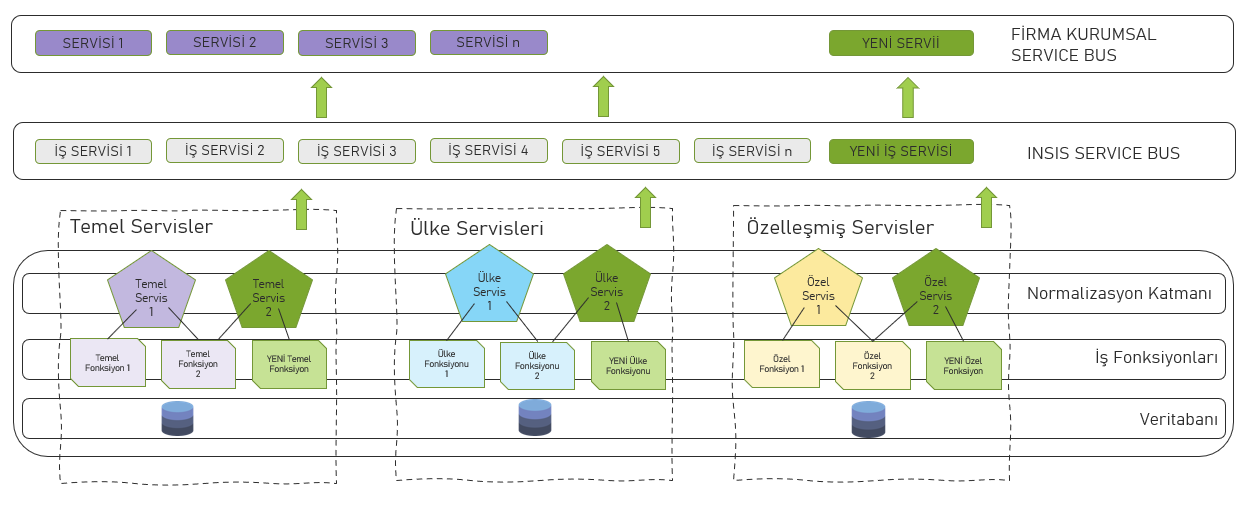 INSIS tüm fonksiyonlarını webservis olarak kullandırabiliyor. Servis kütüphanesindeki servis sayısı 4200+ olarak ifade edilebilir. Servis zenginliği, servislerin REST ya da SOAP teknolojileri tercih edilerek kullanılabilmesi, özellikle dış sistemlerle entegrasyonda dönüşüm sürecini oldukça hızlandırmaktadır.
Çözüm, servisleri üç temel kategoride sınıflıyor:
Temel Servisler, yani tüm ülkelerde konumlandırdıkları sürümde yer alan ve geneli etkileyen servislerdir.

Ülke Servisleri, ilgili ülke mevzuatına uygun olarak geliştirilen, sadece o ülkede yer alan müşterilere açılabilecek servislerdir.
Özelleşmiş Servisler, projenin gerçekleştirildiği firmaya spesifik olarak geliştirilen ülke ve dünya genelini etkilememesi gereken servislerdir.
Temel fonksiyonlarda yapılan yeni geliştirme ve değişiklik gerektiren ihtiyaçlar karşılanırken büyük resme uygun tasarımların yapılması, esnek ve modüler yapının bozulmaması için büyük bir özen gösterilmekte, mimari yönetişim standartlarından taviz verilmemektedir.
INSIS için geliştirilen yığın iş planlama ve izleme altyapısı firmalara günsonu ve yılsonu işlemlerini kolaylıkla planlama, çalıştırma ve izleme imkanı sunmakta, alınan hatalar için uyarılar ile anında müdahale imkanı yaratılmaktadır.
INSIS uygulaması, kullanıldığı Avrupa Birliğine üye ülkelerde GDPR' a tam uyumlu çözüm konumundadır. Güvenlik ve yetkilendirme için geliştirilen altyapı, müşteri kişisel verilerinin korunması kapsamında genişletilmiştir. Fonksiyonel işlemlerde rol bazlı yetkilendirme, "girişçi"-"onaycı" kurgulanması parametrik olarak yapılabilmektedir.
INSIS uygulaması veritabanı olarak Oracle üzerinde koşmaktadır. Son versiyon Oracle-19c uyumludur. Oracle-21c uyumluluğu için testlere devam edilmektedir. Bunun yanında ürün gelişim yol haritasına 10 Milyon EUR yatırım ile farklı veritabanlarında da çalışma stratejisi eklenmiştir.
Bulut için geliştirdikleri versiyon, baz sigorta süreçlerini özelleştirmeden kullanmak isteyen firmalar için maliyet avantajını öne çıkaran bir alternatif olarak bulut ortamlarındaki yerini almaktadır. Firma ihtiyaca göre bu sürümünü "özel bulut" ortamlarında da sunabilmektedir. Yatırım bütçeleri kapsamında yapay zekaya ilişkin çözüm geliştirmeye elementer sigorta fonksiyonlarını dikkate alarak başlayan firmanın bu konuda da önemli referanslar kazanmaya başladığını söyleyebilirim.
Özetlersem;
Sigorta ve Emeklilik tüm kategorilerini kapsayan, Türkiye mevzuatı ile tam uyumlu gelişmiş teknolojik ve fonksiyonel çözüm
Konfigürasyon araçlarının çeşitliliği ile dönüşüm projelerini kolaylaştıran, ürünlerin markete çıkış hızını artıran yaklaşım
Bütünleşik BPM teknolojisi ile süreç bazlı iş yaklaşımının benimsenmesi ve firmalara önerilmesi
Zengin servis kütüphanesi ile dış sistemlerle ve özellikler dijital kanallara kolay entegrasyon
Veri özniteliklerinde detayında yetkilendirme ve güvenlik mekanizması
Yığın iş planlama, çalıştırma ve izleme altyapısı
Yazılım kaynak kodlarına ve Fadata firmasına bağımlılığı minimum seviyeye indiren konfigürasyon ve özelleştirme mimarisi
2018 yılında Celent tarafından "Model Insurer" seçildiğimiz dönüşüm projemizin örnek-çalışma olarak sunulduğu makaleye de bu linkten ulaşabilirsiniz.
Best Legacy and Ecosystem Transformation of Year 2018
Makaleyi sizlerin rahat ve sıkılmadan okuyabilmesi için dikkat çekici noktalara değinmeye çalıştım. Daha fazla detay öğrenmek, demo ortamlarımızda ürünü incelemek isterseniz info@beakwise.com dan ya da şahsen bana her zaman ulaşabilirsiniz.
Saygılarımla,
Leave a Comment